What is agile working?
With office use trending towards collaboration, agile working has gained popularity in recent years. Origins of the agile work style are rooted in the agile methodology, created in the early 2000s to support customer collaboration, iterative development, self-organisation and flexibility to change.
Nowadays, office design for agile working means enabling people to work the way that suits them best. Designers create adaptable spaces that individuals and teams can easily reconfigure when their needs change. This might include open-plan workspaces with a variety of different settings, collaboration areas, quiet zones or private meeting rooms.
Overall, office design for agile working is about creating a office footprint that enables teams to respond to customer needs and market conditions quickly. In turn, this agility can improve productivity and innovation while delivering better value to businesses – because changes to the space are less frequently needed. At a time when many companies are exploring remote or hybrid work arrangements, agile working can be an effective solution for organisations seeking to optimise their work environment.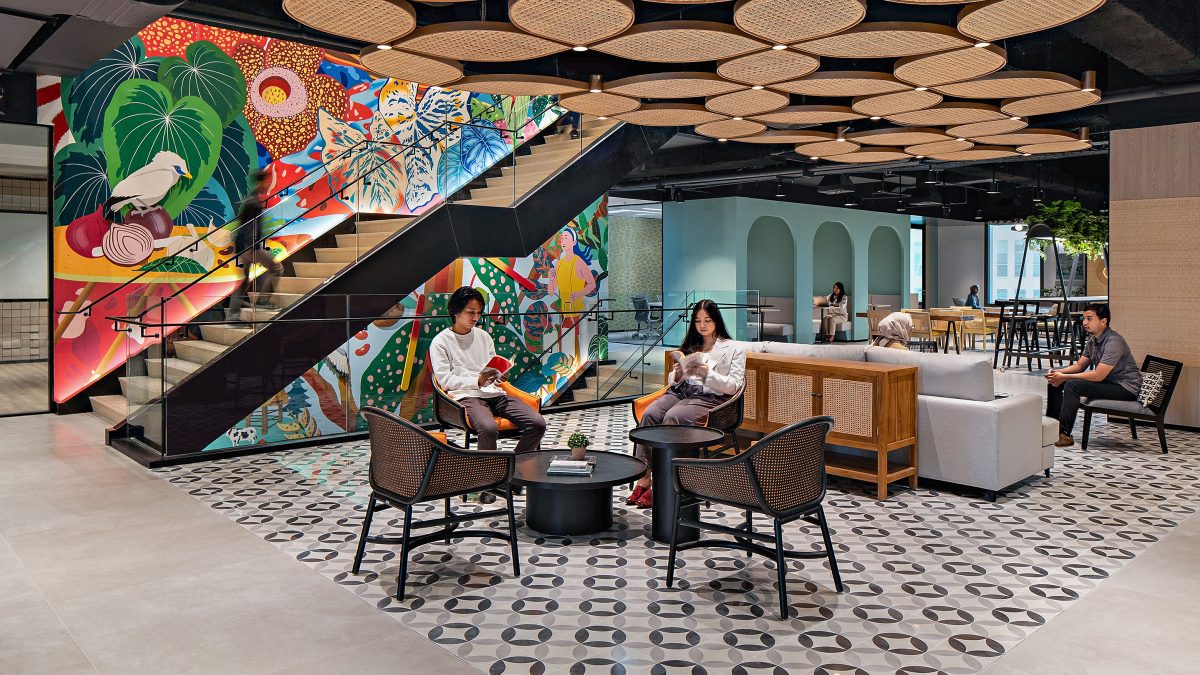 Nestle, Jakarta - a vibrant co-working setting offering hot-desking opportunities in an energising, open environment.
How is agile working different to other ways of working?
Flexible working (or 'flexi-time' conceptualised by German management consultant Christel Kammerer in 1965) allows employees to vary their working hours or location to suit personal circumstances – for example, job sharing, part-time work and working from home.
Agile working isn't as location or schedule focused. It's about creating an environment (or multiple micro-environments) using spaces, tools, methodologies and techniques that help people to work more quickly and easily. These environments offer working options that aren't bound to a specific area or set-up.
Hybrid working is more location-based, typically offering the choice to work remotely or in an established office space. This approach is typically more structured than agile working, where days at the office are usually defined by management or decided among teams.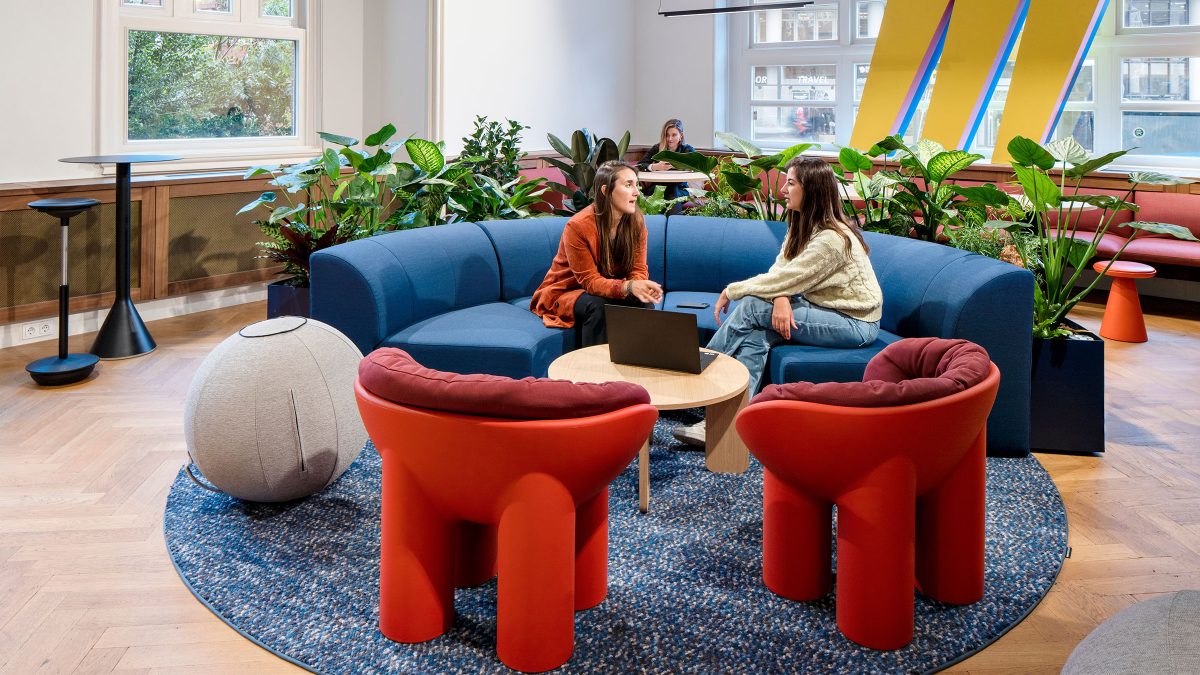 Miro, Amsterdam - a flexible spatial framework and open, dynamic environment to support culture building and expanding head count.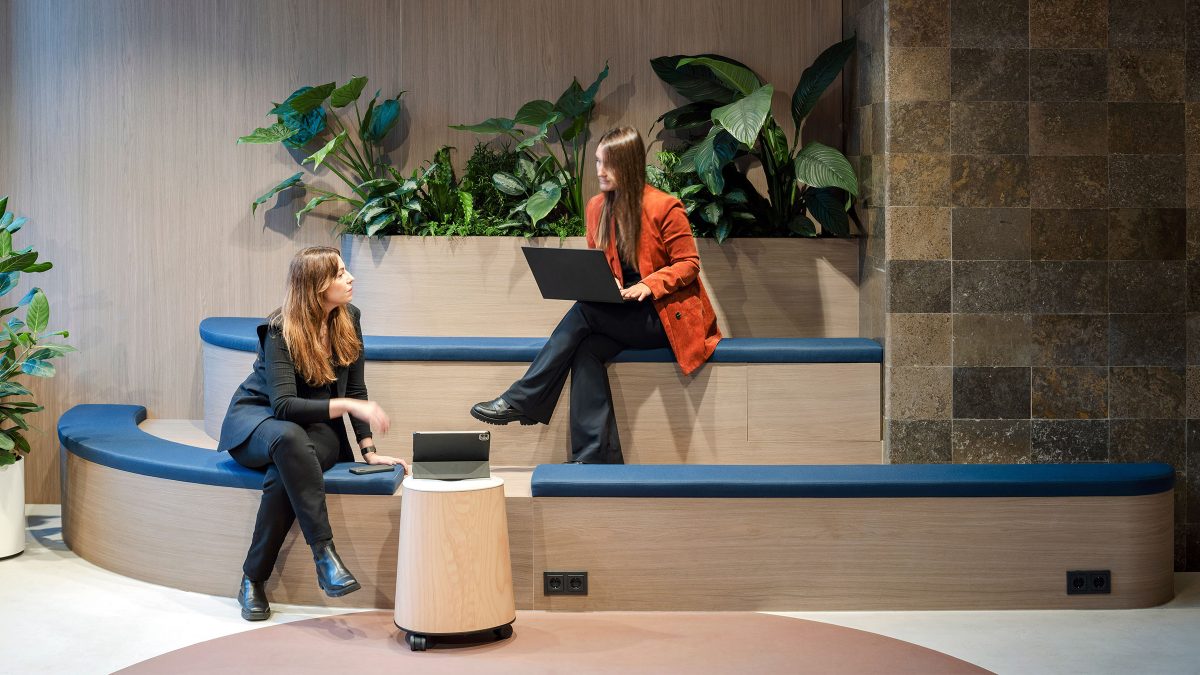 Miro, Amsterdam – an informal tiered seating area supporting impromptu collaborative and social moments.
What are the benefits of offices designed for agile working?
Employee wellbeing
Providing employees greater control over their work schedules and environments can promote a better work-life balance.
Findings from a Deloitte survey suggests that workplace flexibility can have a 29% increase in overall productivity or efficiency at work. With this in mind, the workplace must continue to be assessed and optimised for functionality and future needs.
Space utilisation
Tracking utilisation levels and identifying opportunities to optimise the space is essential. Companies can quickly repurpose underutilised spaces in an agile environment to serve other needs such as collaboration, quiet work or meetings.
Productivity
Supporting individual preferences and work styles can improve engagement, motivation and performance. A study conducted by UKG states that 74% of employees reported being more effective at their job when they feel heard.
Talent attraction and retention
Creating innovative, inspiring environments helps to attract top talent. Agile working can also enable businesses to retain talent that value the ability to work in ways that best suit their needs.
Collaboration
By encouraging movement through open and collaborative spaces, agile working creates more chance encounters, conversations and team cross-over. Advanced technology can also help support innovative digital collaboration and knowledge-sharing.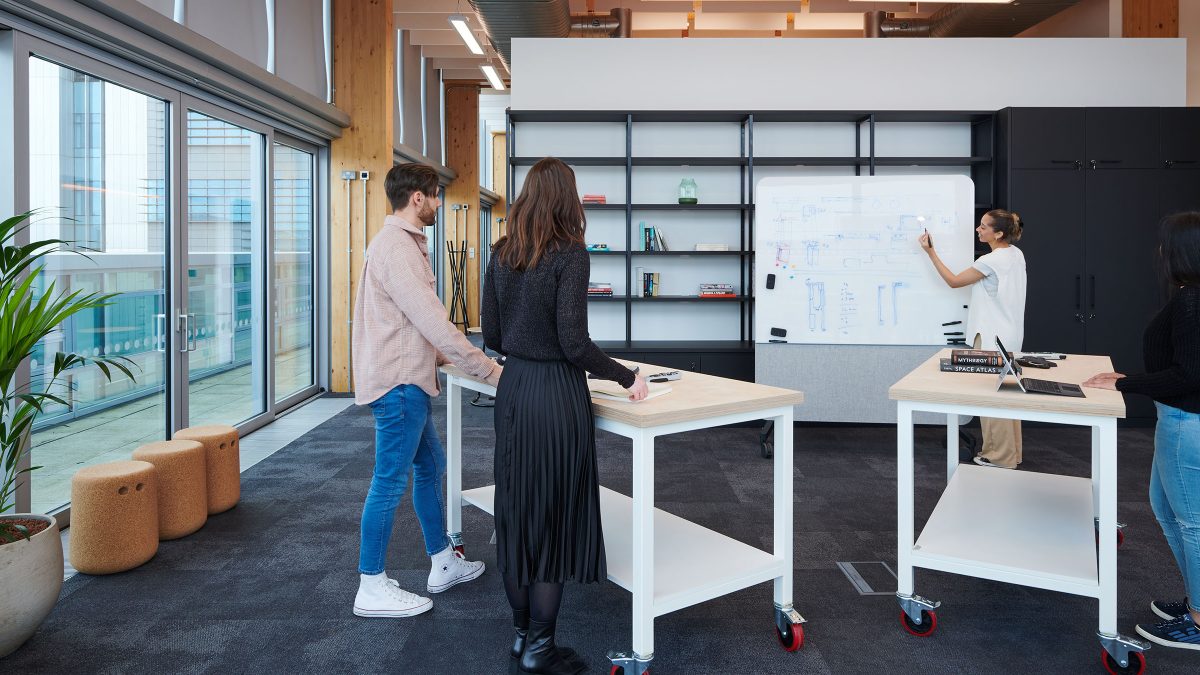 Media company, London – a bespoke workshop space to support a spectrum of agile workstyles through easily adaptable settings.
How to get the most out of your workplace
Our workplace strategists can help you explore the best approach for your business:
Desired workstyles
Equipment needs
Confidentiality restrictions
Compliance requirements
Industry expectations
Team requirements
Global organisation policies
If you're looking to create an agile workplace, we can help you:
Run an audit to understand whether existing technology can support agile working.

Review policy to explore what aspects of the business need to be changed or updated.

Support effective communication across the organisation.

Plan occupancy expectations to maximise utilisation.
While many businesses can benefit from agile environments, there is no one size fits all solution. Our team of workplace strategists and designers focus on your unique needs to identify the work styles that can best support you. From agile to flexible, hybrid, and everything in between – get in touch to discuss your workplace.