Workplace strategy
We partnered with EY to create an innovative environment focused on future of work principles. During the strategy process, we engaged with 20+ people from across the business in a number of workshops, interviews and reviews.
First, we reviewed EY's design standards with the local team. Insights from our sessions with EY leaders and staff allowed us to challenge the existing spatial guidelines. As a result, we redistributed the ratio of individual, collaborative, and hybrid settings towards the latter two.
Then we asked, "what does your future workplace feel like?". We learned it was vital to create a sense of belonging. Because EY staff can spend up to four days a week at client sites, returning to the office must feel like coming home. In addition, the office needs to be a desirable place to work, drawing staff from across the EY campus and encouraging them to come and experiment with new ways of working.
Our office design in Amsterdam for EY achieves this by combining a hospitality-style experience with flexible spaces that support different collaboration needs.
New ways to work
Our brief was to build a culture of ideas sharing. In the previous configuration, individual work was predominant in the layout. So, our design solution decreased the number of individual work points and increased both 'hybrid' and collaborative settings.
The project sets a new benchmark for future spaces. Furthermore, the space clearly demonstrates the way the next generation of talent wants to work. In addition, aligns with the purpose of the office to collaborate and connect with people and brand. It takes onboard feedback around the challenges of remote training and mentorship for junior staff members.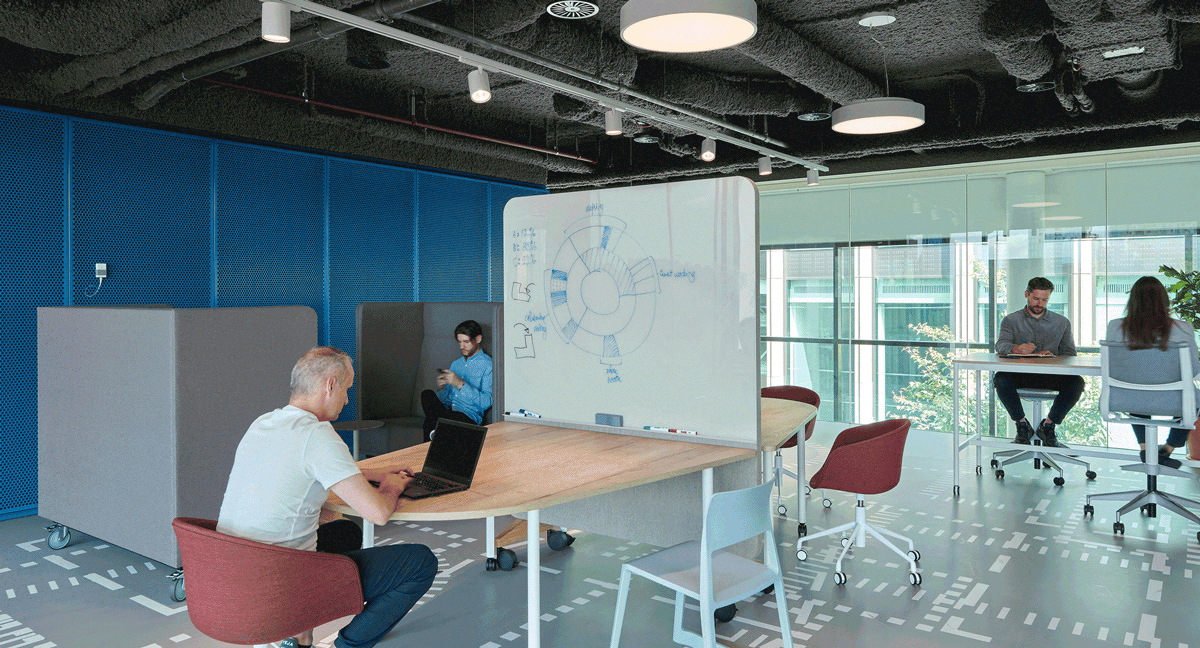 The 'ideation court' is an easily reconfigured space with layouts guided by floor graphics.
An office designed for interaction
EY's people are entrepreneurial. We focused on understanding their behaviours when developing a concept for The Dock. A community workspace for the 'loading and unloading' of ideas.
In response, an ideation court sits in the centre of the plan of our office design in Amsterdam for EY. Guided by graphics on the floor, the team can quickly reconfigure the space to suit their needs.
This energetic space is designed for the lively sharing of ideas. However, we know that blocks of collaboration are often punctuated by quieter periods of focused work. Research shows that noise levels in open offices can be distracting, so we sprayed a recycled acoustic product onto the exposed ceiling, which helps to mute the sound.
The design principles for the Dock are:
Flexibility: a space that is fast to adapt and easy to experiment in
Less ownership: broad capacity and choice and no fixed-desks
Furniture-led: a range of furniture typologies to support different needs
Agile experience: supporting a connected remote, office and hybrid workforce
'One EY': a collaborative environment with multiple communal and shared spaces
Mission-driven: combining EY's global values with the local culture
Changing the nature of ownership
You enter The Dock into a space with a variety of seating that acts as a social hub. With views out to the water, The Pier offers multiple settings to work and meet. There are no fixed desks.
Even so, bookable meeting rooms provide more privacy when needed. Also, a study area at the back offers individual focus settings, such as one-person booths or desks for heads-down work.